For a dozen years, I was a marketing consultant and tech industry analyst. I worked with a variety of clients. Sometimes, a short-term project would extend into a long-term interim executive assignment … and with that, would come a business card for a year or so. This is the third of three parts (including media and tech) of how business cards and contact info evolved over 30 years, this one covering the consulting years 1992 to 2004.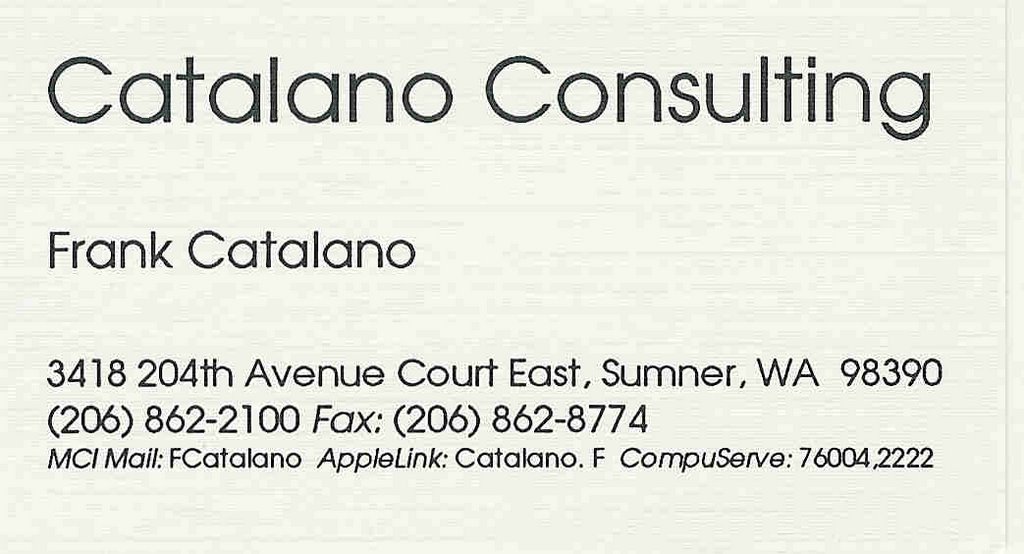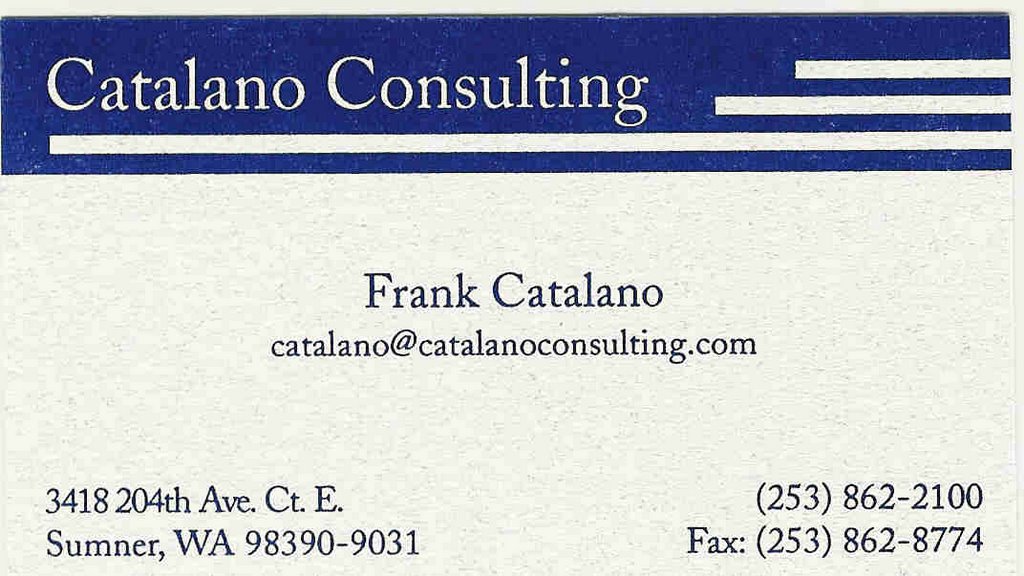 For some reason, even though I knew business cards were marketing vehicles for consultants, I always had a hard time justifying spending on a professional design firm. Above are two of the four different designs — and sets of contact information — I had over the years.
It's still interesting to see in the 1992 card separate e-mail addresses for MCI Mail, AppleLink and CompuServe; each had its own proprietary, non-interconnected e-mail system. I could never count on which one a client would have. A few years later, my area code changed and, significantly, I could have my first card with an Internet e-mail address, though my Internet service provider, Northwest Nexus, limited my domain to a single address based on my log-in name: thus the lengthy "catalano" at catalanoconsulting.com and not the later "frank."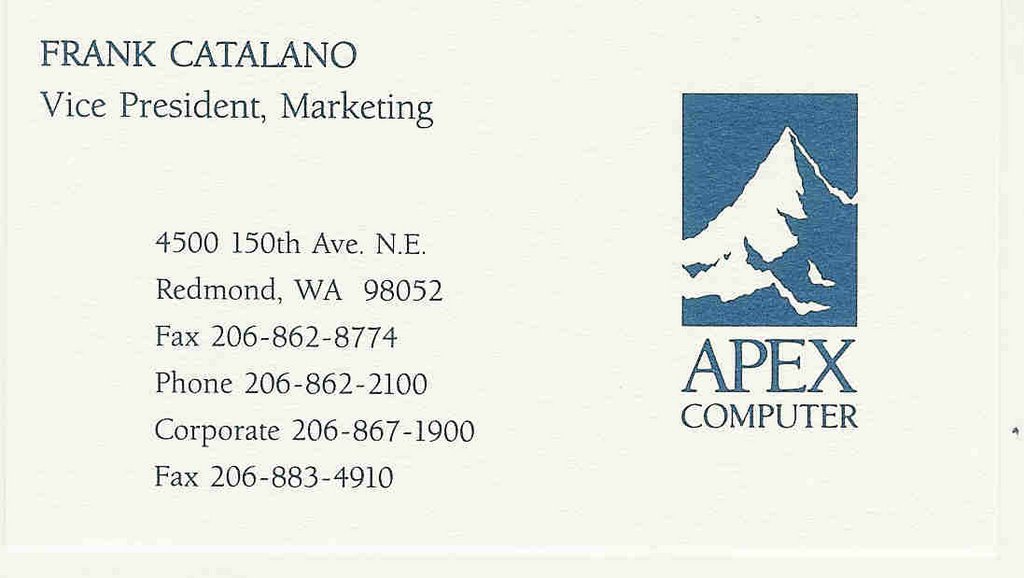 In 1993, I had my first long-term consulting assignment as part-time vice president of marketing for Apex computer. Apex was the largest independent repair company for Sun workstations. Though this was the year of the Web browser, there was no e-mail address.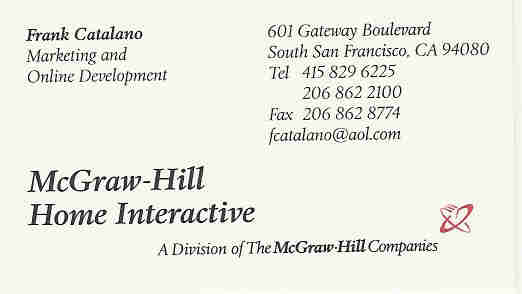 In 1995, as interim vice president of marketing for McGraw-Hill Home Interactive (featuring a weekly commute to South San Francisco), I had a couple of different business cards. Notable was MHHI let me use an America Online e-mail address for contact information. MHHI developed educational multimedia CD-ROM titles.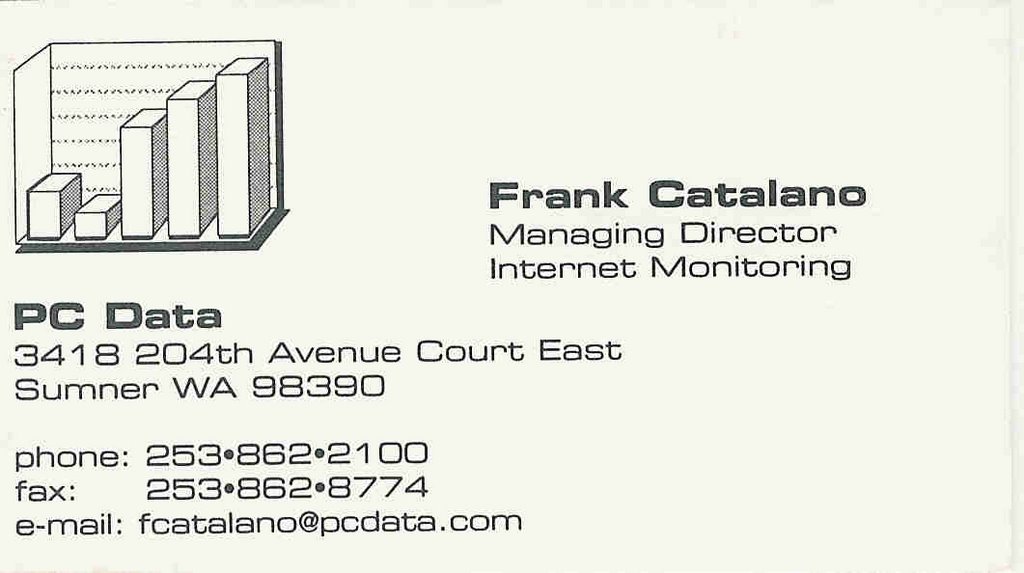 It was 1998, and Ann Stephens at PC Data retained me to be the managing director of PC Data's burgeoning efforts to track Web site usage, much as PC Data had already become the standard for tracking packaged software sales. PC Data clearly had the same philosophy about spending on business card design as I did, but it was the first true client Internet e-mail address I'd had.

In 1999, I joined colleague Mike O'Donnell as part of the original executive team for iCopyright, which created an automated method for reusing copyrighted content legally. I was a consultant and briefly an employee. I loved the logo, which was Mike's brainchild.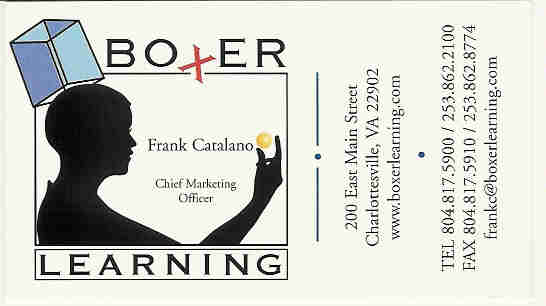 In 2000, Boxer Learning — which developed an incredibly cool Web-based mathematics curriculum called BoxerMath — hired me as its consulting chief marketing officer (and board member). I don't think I ever completely understood the logo, but I liked the card design.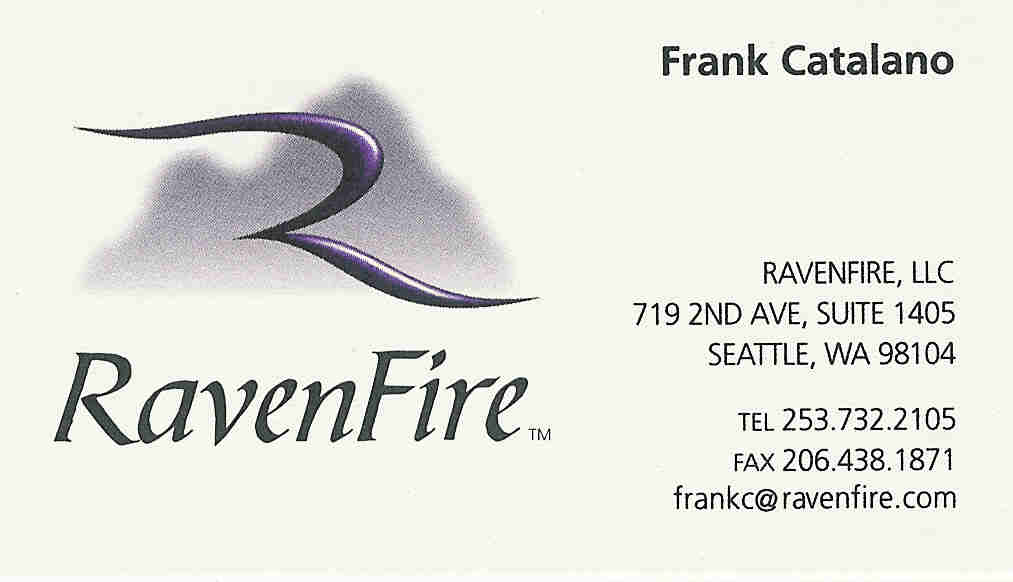 In the midst of this, I associated my Catalano Consulting practice with an alliance of complementary consultants. RavenFire (which, I'm pleased to say, I helped name) was propelled by Aaron Howard, an exec with whom I'd worked at McGraw-Hill Home Interactive.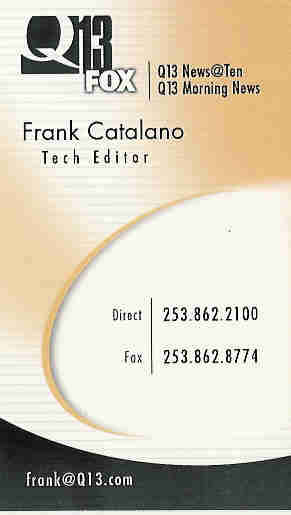 Also during this dozen years of consulting, I continued my freelance writing and media commentary as a technology industry analyst. The four years I spent as author of the Byte Me column for Eastsideweek and Seattle Weekly (1994-1998) generated no business cards, but the subsequent four years I spend as on-air tech editor for KCPQ-TV Fox Seattle (1998-2002) did. With its own nice and short e-mail address.

Not every long-term consulting assignment led to a new card; for example, I was the chief marketing officer of MetaMetrics, an education company that developed the Lexile Framework for Reading, for a year starting in 2003. But for those that did, they help remind me of what I did and what things were like when I did it.
So, what work memories are hiding in your desk?
(This essay originally appeared on Frank Catalano's FrankCatalano.com blog.)