I've learned the hard way not to be among the first to buy a new device while bugs and compatibility issues are still being worked out. But I found myself contradicting my own advice when I ordered Google Chromecast, the new HDTV video and audio streaming device, immediately after it became available.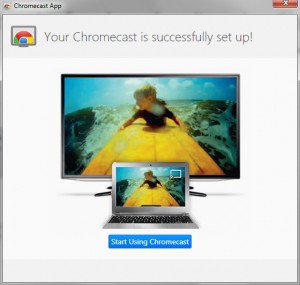 Part of it was a no-brainer price (a low $35 list, but for me a net $11 + tax after a limited time free Netflix promotion and free Amazon Prime shipping). Part of it, candidly, was increasing dissatisfaction with my Comcast cable television bill and exploring options to "cut the cord," though at this point the alternatives are more of a choose-your-own-adventure model than a one-size-fits-all solution.
Over at GeekWire in my column, I review my Chromecast experience and what the device may represent (and potentially get into a geek vs. nerd terminology smackdown) for techies who used to have to tinker to make tech behave.
Also check out the plentiful comments, which delve more deeply into setup issues on iOS, music streaming availability, web browser 'casting to the Chromecast, and why this is not — yet — a universal cord-cutting device.
Read, "Google Chromecast: Welcome to the Post-Nerd Era," at GeekWire.
And if you missed it, listen to the GeekWire Radio podcast in which Todd Bishop and I exchange verbal reviews of Chromecast (me) and Xfinity X1 (he).