"People judge you by the words you use." That phrase isn't just part of a once near-ubiquitous ad campaign, it also applies to tech industry terminology. And based on what's happened to some once-meaningful phrases, many in media and marketing would be judged morons.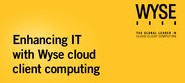 Over at GeekWire, I opine that if you use any of these four tech terms in 2014, your utterance may be judged meaningless due to how each was mangled by the end of 2013: "open," "MOOC," "cloud" and "high-definition."
But thanks to reader comments both on the GeekWire site and Facebook, there were many more observations (and a few nominees that didn't make my final list but might have). Such as:
Analytics, Curated, Engagement, Reach — reasons for all — ubiquitous application of these terms to virtually every product, service, or platform currently being sold. Add to this the term "Social Media" which jumped the shark back in 2011 or so.

Not a tech term, but "awesome" has been rendered utterly meaningless, thanks to techies.

Gameification

Anyone remember hi-fidelity?

I'm a maker, and in 2014 I'm looking to disrupt the cloud. Who's with me??
Read, "Four tech terms to forget in '14," over at GeekWire.