Sure, $2.5 billion is a lot to pay for the maker of Minecraft. But what might it mean for Microsoft's education strategy?
Over at GeekWire, I do a quick back-of-the-envelope analysis of this week's announcement that Microsoft plans to buy Minecraft maker Mojang. Missing in the initial announcements — by Microsoft, by the head of Xbox, and by Mojang — was any acknowledgement of Minecraft's huge popularity in K-12 schools as an instructional tool for STEM (science, technology, engineering and mathematics) subjects.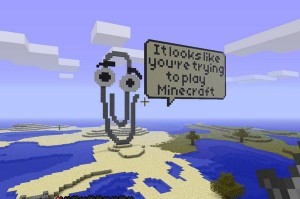 Also missing was any reaction from TeacherGaming, which is Mojang's officially supported licensee for selling an education-specific version of Minecraft — MinecraftEdu — to schools, libraries and museums. That, in itself, isn't surprising, as the effect on TeacherGaming of the Microsoft announcement will likely not be known until Mojang passes the ownership baton. (An email from TeacherGaming pretty much confirmed that there was no substantive news to share yet.) The sale should close, Microsoft's news release says, later this year.
Microsoft's lack of initial edu-comment was rectified when CEO Satya Nadella made a lunchtime appearance at the Seattle Metropolitan Chamber of Commerce and boasted of Minecraft, "It's the one game parents want their kids to play."
But neither Nadella, nor official Microsoft public relations, would go into any specifics. So I, uh, helpfully have made some suggestions. Especially in light of Microsoft's often opaque education strategy, which I noted as far back as 2011.
Read, "How Microsoft can use Minecraft to build its education strategy," over at GeekWire. (Or, if you prefer, on EdSurge.)
And a tip of the hat to @PoweredRedstone for sharing a brilliant Clippy-Minecraft graphic mashup on Twitter.