Christmas ornaments. Porcelain figures. DVDs. All because of a single, red, reindeer nose.
In my holiday GeekWire column, I explore the nerd-tastic continuing popularity of a 50-year-old animated holiday television special, "Rudolph the Red-Nosed Reindeer." There is actually a fair amount of what, at the time, was state-of-the-art tech behind Rudolph, from the "Animagic" process to sound recording.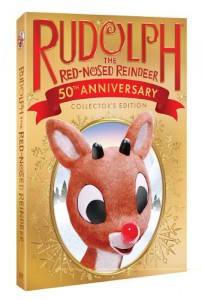 This particular column was something of a labor of love. About 15 years ago, shortly after we married, my wife Dee Dee and I discovered we shared an affection for the stop-motion annual tradition. It wasn't long after that — when I had just wrapped up four years as a freelance tech columnist for Seattle Weekly and its sister paper — I began researching Rudolph's animated life as a topic, and then pitched an idea to my editor at the time:
The Cult of Rudolph
After nearly 40 years, the 1964 animated TV show "Rudolph the Red-Nosed Reindeer" is undergoing a rebirth among young and not-so-young: a remastered DVD with original footage, a line of best-selling toys, a reissued soundtrack recording, even a direct-to-video sequel. Yet the perennial favorite (featuring the late, local Burl Ives), upon close watching, makes Rudolph a poor role model … especially when it comes to parenting, coaching and gender equality.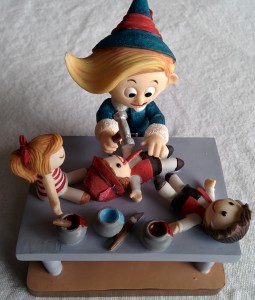 Two successive editors didn't bite at the idea. I put the pitch aside. This year, on its 50th anniversary, nearly four years into my stint as a freelance GeekWire columnist, I re-tooled the approach. Part of what appealed to me was the cool stop-action animation. What if I deeply looked into, and focused on, the tech? This time, Todd Bishop and John Cook at GeekWire bit.
Sometimes, all a good idea needs is better timing. And a tweak.
Of course, in the meantime Dee Dee and I had casually collected so much fun Rudolph memorabilia (from action figures to Christmas tree ornaments to porcelain displays to various DVDs) that I had no trouble coming up with images for the column. With the exception of a screen from the actual television special, all the photos alongside the GeekWire piece are of items I own. And there's a frightening amount more.
With that additional background, please enjoy my holiday GeekWire column, "The geeky tech behind Rudolph the Red-Nosed Reindeer."