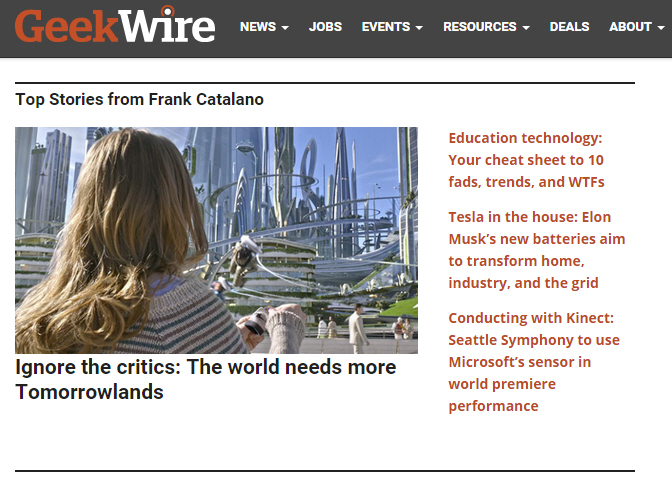 It usually begins politely: "I really like your stuff in GeekWire."
I mutter a thank you, asking them what they've liked. "Well," this especially hypothetical reader responds, "That cheat sheet on trends and fads in edtech was great. And your leveraging of Tomorrowland to call for more, and better, optimistic visions of the future was a good read." Then the pause.
Always, the pause.
"But why were both of those in May? And there's been nothing since?"
As with relationships, French recipes, and government programs, it's complicated. But let me unpack it as briefly and best as I can.
First, GeekWire and I have not parted ways. I've been a columnist (and occasionally more than that, filling in on the editorial desk and contributing other non-column posts) since Todd Bishop and John Cook founded the tech news site more than four years ago. Technically, I'm on hiatus (or less technically, a very extended summer break) due to several other demands. But it's unlikely the regular column will return in its earlier frequency and form.
The why?
The speaking. Every public talk I give is a one-off. I don't reuse presentations, because I know every audience is different (and I'd also bore myself if I always said the same thing).  I've been verbose: a June keynote on education technology in New Zealand, an early July session moderating a discussion on student privacy at ISTE, a late July on-stage interview of science-fiction writer Cory Doctorow for Clarion West, and participating in or moderating three panels at the World Science Fiction Convention in August. Every speaking gig requires the research of at least one column; a keynote, far more. Plus, in most cases (and especially New Zealand), travel time.
The day job. The start of June marked a rather intense annual effort as I again researched and wrote two detailed chapters (on instructional content and assessment) of the forthcoming MDR EdNET Insight State of the K-12 Market Report. Not only did that consulting project suck any remaining writing air out of my brain, but at the start of July, I set aside my education technology consulting practice to join SchoolMessenger as its vice president of marketing strategy. Since then, I've been drinking from the fire hose of new employment, trying not to drown. So far it's been refreshing. But also time consuming.
The breather. Occasionally, a columnist needs to take a break and re-assess direction. I've done this with tech columnist and news media contributing analyst roles going back (cough) two decades, starting with Seattle Weekly/Eastsideweek, KCPQ-TV Seattle, Puget Sound Business Journal, and now GeekWire. (And that's just the long-term tech stuff — I've also done shorter-term edtech columns for NPR's MindShift and EdSurge, regular science and science-fiction book reviews for the Seattle Times and Amazing Science Fiction, and even sci-fi film reviews for The Comics Journal.) This is a happy break, very unlike the shorter one a year ago in which both my spouse and I learned some lessons about sharing bad news on social media.
I'll resurface at the GeekWire Summit in early October in Seattle, interviewing an astronaut, a computer scientist or two, and a science-fiction writer or two on the future of technology.
And after that? There's no deadline for me to start regularly writing again. But as my history — and the length of this  "brief" explanation — reveal, I will write. I don't think I'm physically and mentally capable to not.