What's the future going to look like? That simple question has fueled the work of philosophers, theologians, scientists, stock pickers, and, of course, science-fiction writers. So naturally it was the focus of my session at the 2015 GeekWire Summit in Seattle.
Joining me for the lively, 40-minute, and mercifully PowerPoint-free discussion were Hugo and Nebula award-winning author Nancy Kress, futurist and writer Ramez Naam, and former astronaut Ed Lu.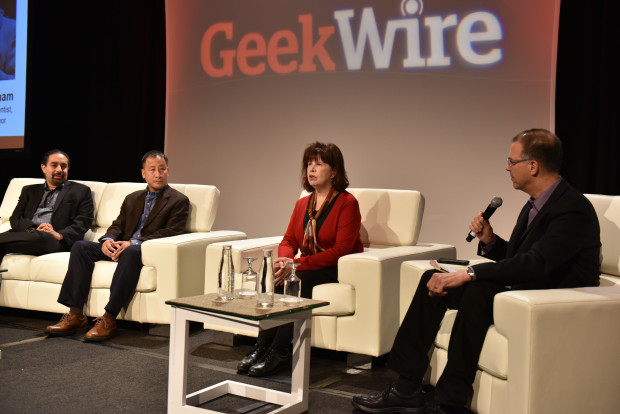 One of my favorite parts of the session was a utopia/dystopia lightning round, in which I asked for quick assessments of which direction seven developments might take us, including:
Uber
Self-driving cars
Internet of Things
Robots overcoming the "uncanny valley"
iPhone 17S
All knowledge only digital in form
President Donald Trump
You can read a partial transcript (including the lightning round) on GeekWire. And, there's a full video of the session on YouTube.
Lu also had some choice words on the current state of NASA. And the three all expressed both concern and delight when asked what keeps them up at night. I was simultaneously entertained and learned a lot from my guests. I trust you will be, too.