This week in edtech reports, a look forward to technology affecting libraries, home for satisfaction with family engagement, and at startups for tracking how "hot" they are.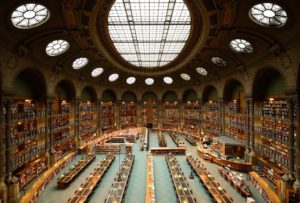 The usual reminder, too, that updates are available in real time on Twitter at @FrankCatalano and via email by entering an email address under 'SUBSCRIBE' in the left navigation.
Report: Patrons as creators, improving digital literacy among trends, challenges in @NMCorg Horizon #Library Edition https://t.co/nrgvdowFAP pic.twitter.com/PNY0QKTip7

— Frank Catalano (@FrankCatalano) March 24, 2017
New Media Consortium, perhaps best known for its Horizon Reports forecasting important technology trends and challenges in K-12 and higher education, has released its third annual (skipping 2016) briefing for libraries, NMC Horizon Report: 2017 Library Edition. The free 60-page report, like its K-12 and higher ed siblings, uses a modified Delphi method that polls experts to look ahead five years.
"Library" in this context means not public, but academic and research libraries. That is, the kind you're likely to find on college campuses.
That's why one tech trend and one tech challenge stand out. "Patrons as Creators" is not something you normally tie to scholarly libraries, and "Improving Digital Literacy" is a general societal need. As an accompanying announcement points out, this shed lights on library professionals' roles, "as deeper learning guides. Libraries are well-positioned to lead efforts that develop patrons' digital citizenship and content creation skills, ensuring mastery of responsible and creative technology use."
Survey: 32% of parents not highly satisfied with info they're getting from schools https://t.co/GxNC2ujozC (@FamilyELab) #edchat pic.twitter.com/KXuYZtCv4y

— Frank Catalano (@FrankCatalano) March 20, 2017
The concepts of parent and family engagement are, if you will, engaging topics in education technology right now. Family Engagement Lab, a new initiative and subsidiary of non-profit GreatSchools, has released a survey to help quantify the need.
In a blog post and infographic, the national survey of parents with kids ages 3 to 18 found only 68% of parents were "highly satisfied" with the information they were getting from their child's teacher or school.
"This leaves nearly a third of families who are looking for more, better, or different information," the researchers note. "Furthermore, we uncovered a relationship between household income and satisfaction, with higher income associated with higher levels of satisfaction, suggesting that there is additional work to be done to meet the needs of families from lower income backgrounds."
#Edtech movers in March @GeekWire 200 Pacific Northwest startups? @Thinkific @SkooliOnline @StudentRND all up https://t.co/0MVaYOTQzO pic.twitter.com/4NvN2ZYbyv

— Frank Catalano (@FrankCatalano) March 25, 2017
Trying to figure out which edtech startups are on the rise? Tech news site GeekWire (full disclosure: I was a founding columnist and still am a contributor) has a useful tool, at least for startups based in the Pacific Northwest. It's the GeekWire 200 monthly ranked index.
You can filter by category (e.g. Education) and/or B2B/B2C (e.g., All) to get to strictly edtech startups, albeit it's "edtech" broadly defined. The rankings, based on publicly available info such as number of Twitter followers, employees on LinkedIn, and Facebook likes, can be fascinating proxies for popularity.
And one more thing:
Recalling that I wrote my #scifi stories on a TYPEWRITER. Using CARBON PAPER. Submitted by MAIL. Guess now that would be historical fiction.

— Frank Catalano (@FrankCatalano) March 23, 2017
Or, as one commentator noted, it may now be science fiction again. Perhaps post-apocalyptic steampunk. Maybe we'll find out when I speak at Hawaiicon in September.
Speaking of breaks, I'll be taking time off to hike in the desert. So expect TWIEtR to resume the weekend of April 15th. Or earlier. Who knows what prickly observations cacti might motivate?