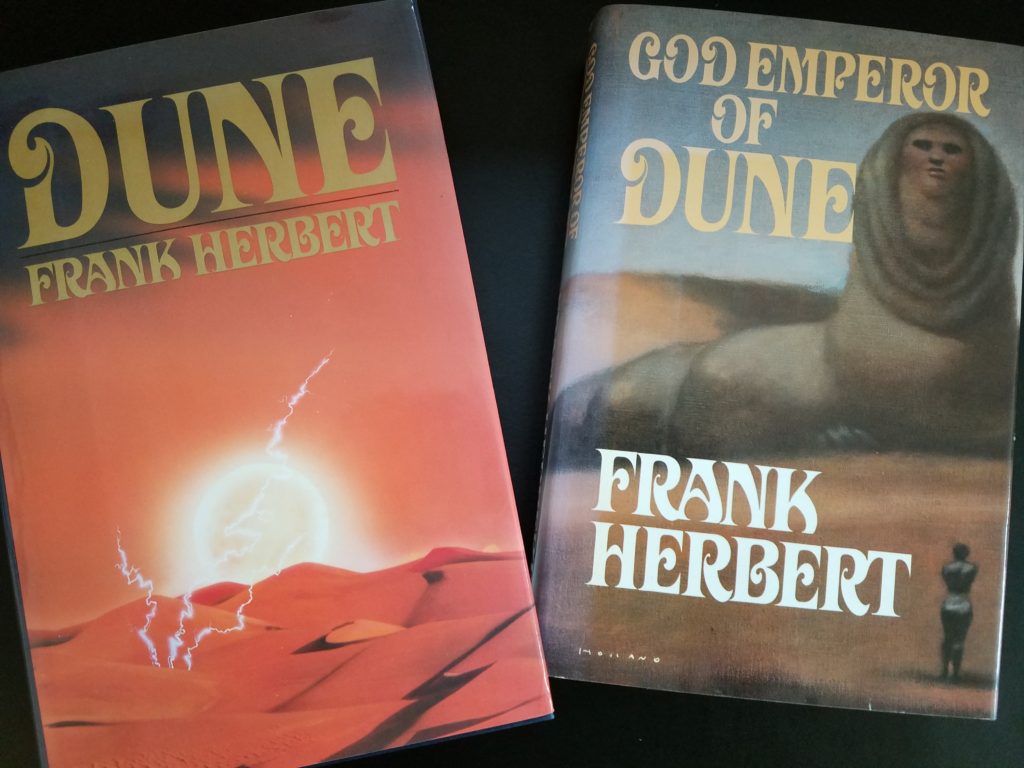 Seattle gets a lot of credit for being a hub for the technology industry. But what may not be as obvious to the masses — and is being surfaced by some tech leaders themselves — is that Seattle (and the broader Pacific Northwest) is a hub for science fiction and fantasy too.
And they're increasingly linked.
I've delved a bit into those connections this year as I've stepped up my writing for the tech news site GeekWire. Not only do we now in the Northwest have Jeff Bezos, Paul Allen, and Bill Gates, but we will always have Frank Herbert, Greg Bear, and Ursula K. LeGuin.
(Personal disclosure: I was once an active science-fiction writer and one-time officer of the Science Fiction and Fantasy Writers of America. So my perception might be skewed, much like yours would be if someone casually mentioned there are lots of yellow Volkswagen cars on the road, and suddenly that's all you're seeing, even though you never noticed them before.)
So far, 2018 has provided several very public examples of the ties between the greater Seattle area, speculative fiction, and sometimes tech titans.
Example one: The late Frank Herbert, best known for the ground-breaking Dune series of novels but also a former Seattle journalist, being honored in his home town of Tacoma with a park.
In 1986, I was asked by Frank Herbert's family to help field media calls about his literary legacy when he died (I was once an officer of @SFWA). Now, his #scifi "Dune" is getting a namesake park in Frank's home town.

The setting? Very appropriate, as my @GeekWire story notes. https://t.co/Mzxhbg2Muy

— Frank Catalano (@FrankCatalano) February 14, 2018
… never count out sandworms. https://t.co/FXiATsZFOa

— katy evans (@katynicoud) February 15, 2018
Example two: Amazon has done a lot to raise the profile of science fiction and fantasy on video with its original productions. (Just think of how well Philip K. Dick's The Man in the High Castle has been transformed into a series for Amazon Prime.)
One big reason may be that Amazon founder Jeff Bezos himself is a fan of the genre and is willing to propel adaptations. The latest? Iain M. Banks' Culture novel series.
Amazon Studios to adapt Iain M. Banks' Culture space-opera novel, a 'huge personal favorite' of Jeff Bezos https://t.co/tiKzdJJqBf

— GeekWire (@geekwire) February 21, 2018
Example three: SFWA's current president, Cat Rambo, lives in Seattle and is a tireless advocate for writers (especially of short fiction and, lately, of games). One of those writers Cat and SFWA have recently highlighted is Peter S. Beagle, who lived in the Seattle area during the 1980s and has a 2016 novel, Summerlong, set here. Beagle will shortly become a SFWA Grand Master.
Tachyon tidbits w @RealPeterBeagle Patricia A. McKillip @JaneYolen @joelansdale – https://t.co/V8qVqZ45TR @geekwire @KarinaRead @FrankCatalano @Reddit_Fantasy @HapAndLeonard #netflix pic.twitter.com/nZg5OtwVl2

— Tachyon Publications (@TachyonPub) March 2, 2018
Finally, it doesn't all have to be pure science fiction and fantasy. It can be related nerd culture, such as the long-running television sitcom The Big Bang Theory. And Bill Gates is on it. Really.
Bill Gates to guest star on 'The Big Bang Theory' https://t.co/V6Fbg9hTSn

— GeekWire (@geekwire) February 20, 2018
The guest appearance probably won't provide any insight into the science fiction Gates prefers. But earlier, he had expressed an appreciation for the work of Neal Stephenson — who happens to live in the Seattle area, too.