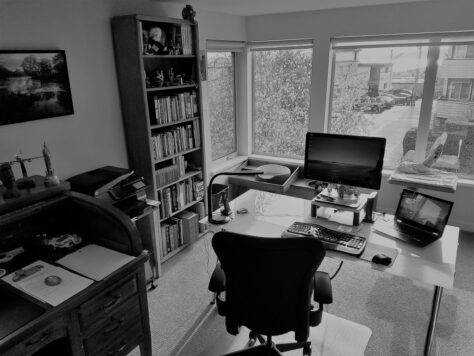 I've worked from home as a remote executive or consultant for 25 years. Precautions for novel coronavirus and the disease it causes, COVID-19, are spurring others — often without another option — to work from home. Here are five brief tips for those doing it for the first time.
1) Get dressed for work. You may be tempted to wear PJs or lounge pants. Wear what you'd wear to the office. It'll put you in the right frame of mind.
2) Communicate. Check in with your team, even briefly, at the start of each day. This is not just to let them know you're online (a green Slack dot does that) but that you're available to them. It doesn't have to be lengthy. It just has to happen.
3) Take breaks. You're still human, even if isolated. I take a brief walk or exercise every single day, and do flexibility stretching. It keeps my body and mind nimble. Do it in the middle of the day and you'll be productive longer.
4) Set expectations. #Remotework is not 24-hour work. Physically move away from the laptop or home desk at the end of your work day, whenever that is, and let others know you're available for emergencies, but need to wrap up. You'll burn out less and be respected more, too.
5) Eat & hydrate healthy. It's easy to pack on pounds if you don't leave home. Stock up on low-calorie, high-nutrition snacks and drinks (I like baby carrots, rice cakes, bananas, apples & sparkling waters). It'll also keep your energy levels stable.
Good luck! And good work.