In a workplace or higher education world of advanced test questions that approach full simulations, why are so many K-12 school tests so, well, Scantron? Blame time, money and appropriateness.
Over at EdSurge, I examine the reasons why what had been called "innovative test items" (now, over time, being re-phrased to "technology-enhanced items") are the types of questions we don't routinely see on tests in K-12 classrooms. Bubble sheets still rule, and it's not because there aren't alternatives, even established ones.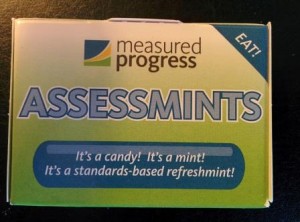 One especially fascinating workshop session at the Association of Test Publishers' Innovations in Testing conference in early March examined six now-common categories of technology-enhanced questions — hot spot, video, short answer, drag and drop, audio and multiple response (which a presenter noted were sometimes incorrectly, and amusingly, called 'multiple multiple choice').
One of the two session speakers, Cynthia Parshall of CBT Measurement , said test taker unfamiliarity with new test question types and their potentially complex interfaces was slowly being eroded by consumer technology. "The whole world of Swyping is making drag and drops more intuitive," Parshall noted.
That said, going beyond simple text-based multiple choice (which assessment professionals call "selected response," as opposed to "constructed response," the latter in which the test taker has to build or create a correct answer without choosing from a list of options) has its own challenges. For example, Parshall cited quality assurance when sound is involved: "For one item, the stem (written question introduction) referred to a 'he,' and the audio was a female voice." The learning curve with new kinds of technologies for test questions goes beyond the test taker.
The lack of advanced test question types in K-12, however, is likely to start changing with the introduction of the online-only student assessments from the two Common Core assessment consortia. But the obstacles to widespread adoption in K-12 are pretty steep.
Read, "'Innovative' K-12 Tests: Almost Always Just Around the Corner," at EdSurge.