Fair warning: This advice is going to piss off a lot of advertising sales reps.
A question I get fairly often is, "Where should I spend my marketing budget?" The hidden question in the question is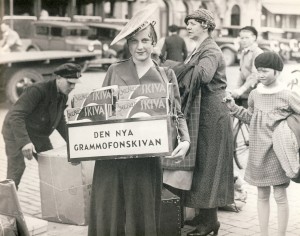 that there are magical tactics, unknown to mere mortals, that will propel market awareness and sales to Olympian heights.
There aren't, of course. But there are tactics for any new tech-related product in the new decade which are definite musts. And a lot more are "it depends." Or even "hell no."
Now for the Olympus-sized caveat. This advice works best for a digital product or service launched by a start-up with a limited budget. It was originally developed for education technology products, a market which has characteristics of both business-to-business/government sales (administrators) and business-to-consumer sales (teachers). I originally delivered it at the 2010 Software and Information Industry Association Ed Tech Business Forum in New York City. But there are nuggets in here for everyone, especially in the "musts."
Very important first step
Please develop a strategy before even considering refining the tactics. I've written about this extensively. You must have a strategy before you know which tactics will make sense in your particular situation. Know your objectives, target audience, competition, key features and benefits and relative positioning derived from all of the above. It establishes your playing field and position on it and, if done well, the appropriate tactics fall out naturally.
Now after you've considered (and likely dismissed) that suggestion, here's a recommended general balance of awareness-building, demand-generation and sales-support tactics for an emerging or start-up tech company with limited cash. Keep in mind this doesn't include marketing spend that is not customer-facing, such as buying market research or licensing a customer-relationship management system.
Tactical musts
Public relations and social media. I've lumped social media in with PR (e.g. news releases, media relations, awards, speaking, reviews, white papers, case studies), even though real-time social media (e.g., Twitter, Facebook, YouTube, blogs) also has strong customer-service application. Social media is very much word-of-mouth marketing with digital lips. And social media is more like good conversational PR than any other marketing discipline. While generating demand through both is a long game, they are a must for awareness and give you the most bang for the invested buck, long term.
Direct mail & e-mail marketing. If you've done your homework and know your target audience, this is a no-brainer. Buy good lists. Target, test, adjust, rinse, repeat with a strong call to action (and by that, I mean "learn more" is not a strong call to action).
Website. I see fewer crappy start-up websites than I used to, but even if it's small, the site must look professional, be easy to navigate, make it simple to buy (don't underestimate this) and be optimized for SEO. The website is your business' front door. Google is your true home page.
Channel marketing/sales support. This is going to vary the most depending on your target customers and the mix of sales channels you employ (direct sales, independent reps, resellers, etc.). But if you use people to represent your product, know that the marketing message is going to get more diffuse the further the sales person is from you either geographically or in employment status. Provide your sales team with a customizable marketing toolkit with templates, standard presentations, logos, webinars, table signage and more that any sales person can quickly apply while doing minimal harm. But do spend your money on customer-facing sales materials and tools — not on black holes like MDF (Market Development Funds) charged by resellers which later is mostly reflected in their, not your, bottom lines.
Maybe, never, or it-depends tactics
Trade show/conference exhibits and sponsorships. These are best for branding and awareness, not generating sales leads. Until you're a certain size, conference sponsorships are a waste of money — no one remembers whose logo is on the tote bag.
Display and broadcast advertising. These also support branding and awareness, but are very expensive due to required frequency for effectiveness and poorly targeted when compared with direct mail or e-mail.Pure image ads without a call to action are a near-total waste of money. Near-total, in that as a colleague once colorfully described, pure image ads are like a man in a finely tailored suit who wets himself. He looks good and feels warm about the result, but no one else notices.
Promotional items. Tchotchkes used as booth giveaways or leave behinds are fine, but make sure they reinforce your product or message and getting the freebie doesn't become the only reason someone wants to talk with you.
Printed marketing collateral. All those fancy brochures and fliers sure look like good marketing, but only print enough for sales leave behinds or a small stack at an event. Optimize for, and focus on, electronic versions that can be downloaded and e-mailed.
Physical packaging. If the only time a customer sees your box is after the sale, don't bother. Better to spend the money on your logo and branding elements for your website, which is your real packaging.
The bottom line, or, "If I only had $100"
Again, all of the above advice is general, designed for a start-up or emerging company with little marketing money and a new tech/digital product. It doesn't necessarily apply to an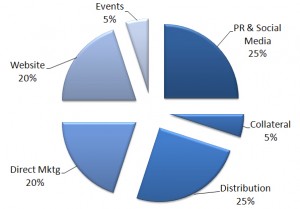 established company, an existing product, or even to a new well-funded mass-market tech product. Now that I've covered my caveats, what would I personally do if I only had a $100 marketing budget and needed to figure out relative spend? I'd:
Split 50% between channel marketing/sales support and PR/social media;
Split 40% between direct marketing and the website;
Split the remaining 10% between events (e.g. webinars) and collateral.
These are relative relationships, not hard-and-fast amounts. Your mileage may vary, even greatly, as there are tactics I haven't covered and hybrids of those I have. But with a great product, a clear strategy and these tactical tips, a start-up or emerging tech company will be less likely to waste time and money — and more likely to generate demand that leads to sales.
Oh, and those advertising sales reps I irritated earlier? Consider buying some of your direct mail and e-mail lists from them. They might feel a bit better.