Speaking
In the normal course of a year, you'll find Frank Catalano attending several technology and education industry conferences — often to speak about trends in tech or edtech, or to provide lively moderation of a PowerPoint-free session, but always to learn.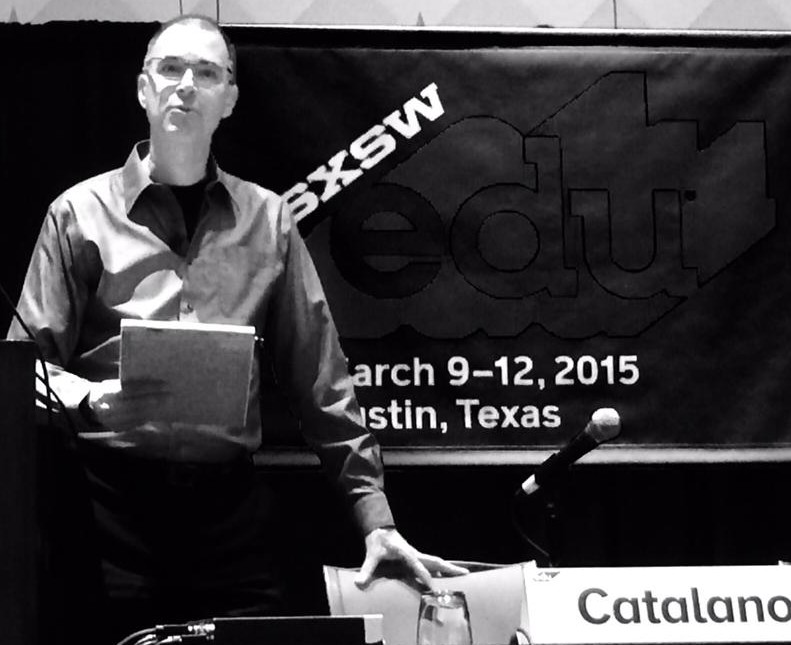 In addition to being a panelist or moderator at industry gatherings, Frank has keynoted large-group events (such as the National Association of College Stores' CAMEX and Blackboard Transact's annual conferences) or small-group events (such as Acer America's Education Advisory Council) with thoughtful, well-researched and engaging custom talks.
In the past few years, Frank Catalano's speaking engagements included:
GeekWire Summit, Seattle, WA on science fiction and the future of technology.
EdTech for Export, Wellington, New Zealand, for the closing keynote (video).
Education Industry Summit (Educational Technology Industry Network of SIIA), San Francisco, CA, on the sessions, "On the Internet, Every Product Looks the Same" and "Fad, Trend, or It's Complicated?" and as 2015 CODiE Awards host.
SXSWedu, Austin, TX, on the panel, "Reinventing Industry: Changing Edu's 'Big Three'."
Seattle Public Library, in conversation with New York Public Library Chief Digital Officer Tony Ageh on privacy, innovation and the public good in the digital age.
Sasquan World Science Fiction Convention, Spokane, WA, on panels about writing, science, and social media.
Clarion West fundraiser, Seattle, WA, interviewing "Cory Doctorow in Conversation."
ISTE (International Society for Technology in Education), Philadelphia, PA, on, "Digital Footprints: How Student Privacy and Identity Walk Hand-in-Hand."
A sampling of Frank's earlier industry speaking engagements:
Moderator and speaker at ATP's 2014 Innovations in Testing conference in Scottsdale, AZ, about how digital credentials are evolving education and workforce environments (audio).
Host of the Software and Information Industry Association's annual education division CODiE Awards in San Francisco from 2010 to 2014 (2014 video).
Keynote participant for the Association of American Publishers preK-12 Learning Group's 2014 Content in Context conference in Washington, D.C., on open educational resources (audio).
Panelist at EdNET from 2012 to 2014 as part of the closing Catbird Seat analyst session (2014 video).
Speaker at the 2013 conferences of the American Board of Nursing Specialties and Institute for Credentialing Excellence on digital credentials.
Moderator of the 2013 Content in Context conference closing session, "Remaking the Page in the New-Media Age."
Moderator at SXSWedu 2013 of "From Legacy to Uncertainty: the Digital Future of the Major 'Textbook' Publishers."
Speaker at the Software and Information Industry Association's 2012 Ed Tech Industry Summit on edtech myths.
Keynote for the Education Industry Association 2011 EDVentures conference on marketing in a downturn.
Speaker and moderator for MIT Enterprise Forum's "Obstacles and Opportunities for Entrepreneurs in Education."
Examples of Frank's recent corporate event speaking:
Acer Education Advisory Council 2014 meeting in San Jose, CA, on how data in education have moved from being isolated, to connected, to active.
Morning keynote for the BbWorld Transact 2012 conference on five overarching K-20 trends to watch in education technology.