In some respects, what our parents and grandparents thought of as the "Big C" is now the "little c." Cancer survival rates, for a variety of reasons, have improved overall. The earlier detection of many common types of cancer still comes as a emotional shock, but there is much more public information. And thanks to technology, more choices.
Such as how you share the news with family, friends, co-workers and acquaintances in a culture of social media over-sharing.
Over at GeekWire, I explore how to find a good way to share bad medical news on social media. I know, because the case study is one close to me: This summer, my wife Dee Dee was diagnosed with breast cancer.
We're past the immediate treatment stage (surgery and radiation; no chemo was required) and hormone therapy will continue for five years. But early on we had to figure out the best way to communicate the diagnosis and ongoing steps to those used to getting updates of our personal lives on Facebook and other social networks.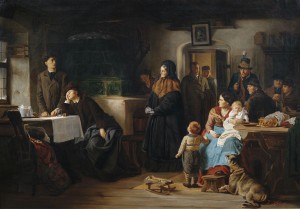 So we came up with seven questions we asked ourselves, and could apply to sharing any really bad news, medical or otherwise, in a tech-communicative society. Plus Seattle-based Group Health Cooperative chimed in with three cautions, based on its social media manager's experiences.
Social media, of course, is more than a communications mechanism. It also provides and points to many resources for those dealing with breast cancer. I didn't delve into that aspect. But one column reader asked:
You don't mention #bcsm and whether Dee Dee enjoyed reading the posts of others in the breast cancer social media community. I'm interested because some research suggests a benefit to patients.
Dee Dee responded, in part:
I haven't been active in the breast cancer social media community — after diagnosis I spent a lot of time reading Dr. Susan Love's Breast Book and doing other research on breast cancer. Perhaps due to a quirk in my personality I didn't feel the need to participate in conversations online (or offline), but focused on my own recovery. However, I know those resources are very valuable and helpful to many … Now that I'm past the treatment phase I'm very interested in breast cancer research and prevention, so I think I'll be checking out more of these forums.
For more, read "Finding a good way to share really bad news on social media," on GeekWire.